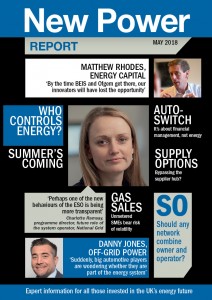 What is a 'System Operator' and how should it be incentivised?
Innovation: can the West Midands leave BEIS and Ofgem behind?
How many people are auto-switching?
Questions of control: network users hit back at DNO bid for domestic cut-offs
Smart thinking makes the most of limited connections
NEW from New Power – Market Report on Scotland's onshore wind sector.
In the UK's onshore wind industry, all eyes are on Scotland.It is the only game in town for new projects. And it is a key market for maintaining, operating and ultimately repowering existing plant.
Our 36-page report includes policy updates and data for developers, supply chain members, power sector analysts and anyone who wants to do business in Scotland's onshore wind industry.
Click here to BUY NOW