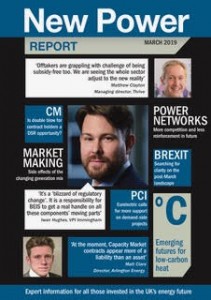 Matthew Clayton, Thrive: "Offtakers are grappling with the challenge of being subsidy-free too"
CM: Is double blow for contract holders a DSR opportunity?
Matt Clare, Arlington Energy: "At the moment, Capacity Market contracts appear more of a liability than an asset"
Iwan Hughes, VPI Immingham: "It's a blizzard of regulatory change. It is a responsibility for BEIS to get a real handle on all these component's moving parts"
Plus: Emerging futures for low-carbon heat, searching for Brexit clarity and the path ahead for power networks

Click to here to download your latest issue.
Not yet a subscriber? To see if you qualify for our next FREE TRIAL send your name, job title, and telephone number to subscriptions@newpower.info