Search the power plant and project database
Fully searchable data on power plants in operation and in the development pipeline.  With information on plant capacity, location, ownership, progress through the development pipeline, capacity market status, export capacity and more.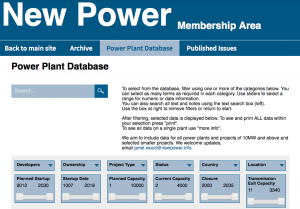 Notes on the database.
The database has details of over 1500 power projects (including interconnectors and storage projects) over 10MW in size and selected smaller projects. You can sort by developer, project type, capacity, status (proposed, applied for planning, approved, under construction, operable), startup date, location, and more.
To find projects with CfDs awarded in the recent auction search for: CfD2015.
To find projects with Capacity Market contracts awarded in the recent auction search for: CM T-4 2014
You can also search on: CM qualified
Search the archive of New Power articles
Search and use our regular in-depth analysis of industry issues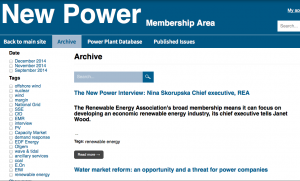 Download current and past issues of New Power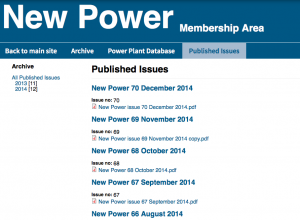 To subscribe clock on the lick below and return the form to subscriptions@newpower.info
For more details and to subscribe, email: subscriptions@newpower.info