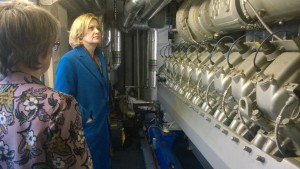 The government will provide a total of £1.5 million funding for 27 heating projects across 24 local authorities in England and Wales, energy secretary Amber Rudd announced this week.
The department of energy and climate change (Decc) claims heating networks have the potential to supply between 14% and 43% of energy to buildings in the country by 2050, while reducing carbon emissions, potentially lowering energy bills in local areas, tackling fuel poverty and creating jobs.
Amber Rudd said: "Developing more home-grown energy is a vital part of our plan to ensure long term energy security for our families and businesses. We are determined to do this by backing innovation, in a way that keeps bills down for consumers and creates jobs and financial security for working people.
"The funding we're awarding today is part of that plan – the local authorities being awarded this money have shown that they have the right ideas for providing secure, low carbon energy to thousands of homes and businesses across Britain."
Some of the funding will be used to repurpose heat from a disused underground station for the Bunhill Heat and Power Phase 2 project in Islington.
Read more expert coverage: "There is this misconception that to decarbonise you have to put everything onto electricity, but heat is a massive resource"
Subscribe to New Power for full analysis, comment, interviews and data in our monthly report, and access to our database, or sign up to our FREE e-newsletter for website updates