The gas system operator has asked for more information from users about gas use in future, as it tries to maintain gas pressures in the system. National Grid Gas has warned in recent 'operability' documents that it may not be able to maintain the pressures that users are used to, and in some areas pressures may fall below statutory limits.
The operability threat is a result of new, less-predictable gas network uses that mean faster and much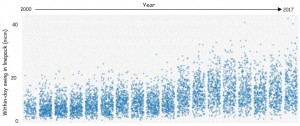 larger changes in gas pressure in the pipes as users take gas out (and in some cases inject it).  The changes are reaching the limits of the network's ability to respond, as there is a limit to how quickly gas can be pumped across the network to adjust pressures.
Recent data on pressure swings in the system show how the problem is developing (see diagram).
The System Operator is looking for more information about short term actions (ie within the day, rather than notified furthur in advance).
It has asked system users for information on:
what factors affect how they use capacity and how these could change in the future
what impacts the accuracy and notice-periods of their day-ahead and within-day flow notifications and how this could change in the future
What benefit having optionality to flow gas at an efficient profile, with minimal restriction, has commercially and operationally.
The last question refers to the SO's plans to make changes to the charging regime. That may signal higher prices for users (such as large gas plant) who want gas at more than average pressure as well as developing new products such as rewarding flexibility.
The SO will publish an update on flexibility in February which will consider;
how within-day behaviour could evolve in the future
the impact it could have on network operation
whether current and future network capability can continue to meet future within-day customer needs
what potential options could be considered if this is not  the case
Further reading
National Grid Gas signals new products to improve system operability
Legislation outlawing data flows between gas and electricity System Operators 'not fit for purpose' as cold snap tests interaction