Smart meter installations fell by 35% in December – the biggest month by month fall since 2012, according to figures on electricity meter installation provided by industry body Electralink. The worst area affected was South Scotland, with a 41% month-on-month reduction, and the least was London with a 28% reduction.
There are two likely causes, Electralink said. One was the lower working hours in December, which typically causes a decrease of around 25%. The other is the new requirement for most suppliers to switch to rolling out new-version (so-called Smets 2) meters. The December figures (note, the figures are for electricity meters) show that the rate of install of early-version (Smets 1) meters, which often go 'dumb' when customers switch supplier, decreased by 36%. However, installation of Smets 2 meters failed to make up the shortfall, decreasing by 25% in December. Some suppliers already have a derogation that enables them to continue installing Smets 1 meters until March this year. The question for suppliers will be whether they can increase the rate of Smets 2 installs.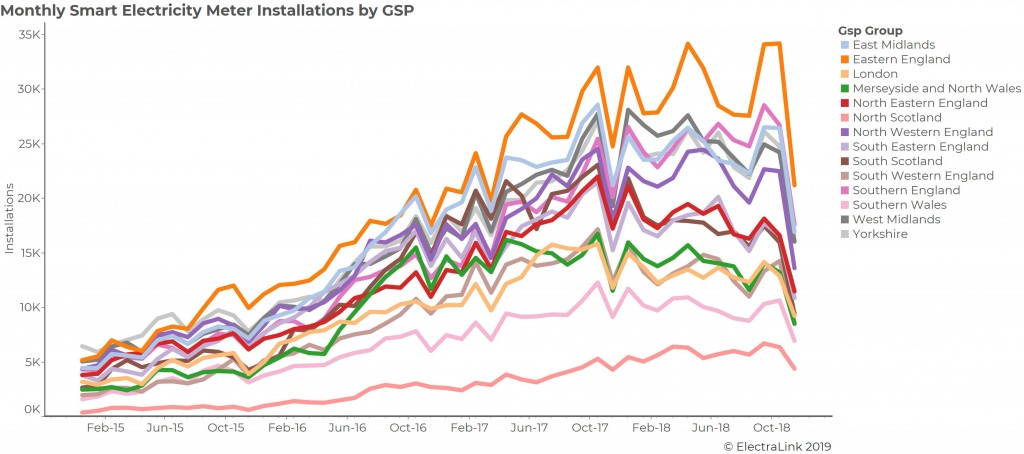 New Power is tracking monthly smart electricity meter installs with the help of Electralink and the rollout now stands at 30%. Installs in North Scotland and London are lagging the rest of the country. In a January evidence session with the Select Committee on Business, Energy and Industrial Strategy energy and climate minister Claire Perry MP acknowledged that installations had slowed in 2018 and said that as well as issues caused by the transition to Smets 2 meters, "a lot of the low-hanging fruit got done first."
A National Audit Office report suggested the roll-out would reach 75% by the end of 2020, a figure that the minister supported, but she agreed the rollout speed would have to double to reach that figure. The minister promised a revised cost benefit analysis for the programme in Q3 this year. And she implied that a reconsideration of the end-date may be on the cards, saying that she did not dispute a National Audit Office report which said "the cost estimate is 4% higher with the end date of 2030, so approximately £500 million on a total programme cost of £11 billion".
The minister admitted that there had not been economic analysis commissioned over extending the phase-out date for Smets 1. She said, "The trade-off is whether you want customers to achieve some form of saving now by having a Smets1 installation." The minister also said, "One of the commitments we should be making to this post-2020 landscape is ongoing monitoring of what the actual operating costs are for suppliers that have installed these systems."