Ripple Energy is about to start crowdfunding to develop a platform that offers a new ownership model for renewables. It is using Seedrs to raise £750,000 for 23.21% of the company.
Last month New Power editor Janet Wood spoke to Ripple's Sarah Merrick (pictured) about the new company.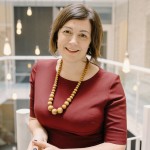 How does it work?
Ripple members take a stake in a specific renewable energy asset – usually a wind farm – and the part of their power bill that would be from the wholesale energy cost is replaced by power from their stake in the wind farm, which incurs just the operation and maintenance costs. If the customer switches supplier, that arrangement is 'ported' over. The overall bill should be a bit lower, and the customer can see where that part of their power is generated.
That's a relatively simple proposition for the consumer. But to realise it, Ripple has to manage contracts and data between a host of different industry players. It's "a clean energy ownership platform", says Merrick, "We don't develop our own projects, we're not a supplier and we don't build them ourselves". it is the type of proposition that would not be possible without modern data and system management options.
Merrick explains, "We bring together the projects, we manage the construction and the operation, and we manage the contract with the supplier partners and the contractual interfaces. We make sure the project is built on time and on budget." It does this in exchange for a management fee.
Ripple will have to manage "a very dynamic PPA," Merrick admits. In order for a supplier to be one of Ripple's supply partners it has to agree to be an offtaker for the windfarm and to accommodate changes in the PPA if customers move from one supplier to another.
The company is raising investment for its platform first. "Once the investment is concluded, we estimate it will be three or four months before we can launch our first project," says Merrick.
Once the platform is in place, Ripple will be looking for around 800 customers for its pilot project.
Subscribers download the April issue to read the full interview
The crowdfunding is here