Post-Brexit regulation gaps could allow low-quality goods to overwhelm those produced to existing standards, according to Howard Porter, the chief executive of British Electrical and Allied Manufacturers' Association (BEAMA).
Brexit plans assumed that all regulations would initially be brought into UK law. But there are gaps and Porter fears that government will quickly discard that parity. EU regulations are regularly updated and "on all the eco-directives for the efficiency of equipment they are consulting on how they consult industry post Brexit – on which regulations to adopt and which they don't adopt", he says. UK manufacturers can respond but so can others whose only aim is to allow least-cost options to enter the market, with little regard for carbon emissions or other standards.
"The manufacturing industry has been based in the last 45 years on a European system. Anything that takes it away from that integrated system has to be worse than what we have now."
He complains: "The government is spending £100 million on telling people how to prepare for No Deal and we told government there are thousands of things that we have no idea about… the big thing is that the current administration does not seem to believe in regulatory alignment post Brexit, which is an absolute disaster."
"Currently there is a fully functioning international market. We import lots from China and we import more from Europe than we export to it. We could improve that situation, but we could do that from inside the EU."
Long-term regulatory divergence is a very big issue for his members. Porter acknowledges that we may sign a trade deal with the US, although he says that will not happen quickly, but he says if that means signing up to a dual set of standards: "We will all say forget that, I'm doing something else."
Porter is pessimistic about the direction of travel: "An awful lot has changed between the May government and the Johnson government. The main agreement I did not like but they listened a bit and the plans recognised these things. Now they don't listen."
He thinks that current cabinet ministers "believe that we shouldn't be manufacturing in the future", saying he is "reliably informed" that it is their view that we can rely on software and services businesses and leave manufacture of, for example, electric vehicles to countries like China. It is possible Porter has the wrong impression – but the fact that he can have that impression at all should be of serious concern.
This is an extract from an interview in the November issue of New Power Report. Subscribers can click here to download the issue.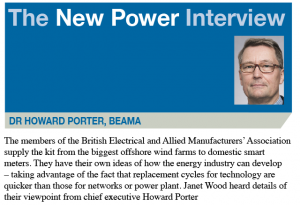 Not yet a subscriber? New Power is a specialist report for anyone with an interest in the UK energy industry. We look in-depth at all the issues that have to be addressed to rebuild our industry – moving from our centralised high-carbon power system to one that will provide heat and power securely, affordably and with minimal carbon dioxide emissions. Contact [email protected] to find out more.