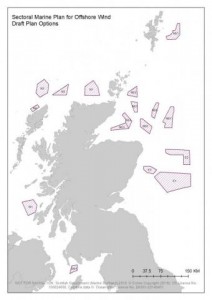 Crown Estate Scotland has invited developers to bid for leases to build offshore wind in Scottish waters that could result in wind capacity that would generate more green electricity than is used across Scottish households.
Investors and developers will be able to register interest from today (10 June) in obtaining an 'option agreement' with Crown Estate Scotland.
The 'ScotWind Leasing' round builds on Marine Scotland's Sectoral Marine Plan for Offshore Wind Energy, which assesses the highest possible deployment scenario for offshore wind as 10GW. Crown Estate Scotland says that if 5GW of that is achieved, at expenditure per GW of capacity expected to be £1.75 billion, it will result in investment of £8.75 billion.
In applying for a lease, developers will have to submit a Supply Chain Development Statement, outlining how they plan to engage with and utilise supply chain to successfully develop their projects. It will include information on the geographical location of supply chain activity and evidence on how the plan can be fulfilled.
Paul Wheelhouse, Scottish energy minister, said: "The launch of ScotWind – the first offshore wind leasing round to be administered in Scotland – is a very important milestone for Crown Estate Scotland and Scottish ministers, but also marks another pivotal moment for the development of our offshore wind sector and also presents an opportunity to help develop our strategic economic response to the Covid-19 pandemic.
"As we emerge from the crisis, we have a chance to re-imagine the Scotland around us, and to begin building a greener, fairer and more equal society and economy, one in which wellbeing, fair work and social justice are prioritised.
"Our seas are host to some of the best offshore wind resources in the world, supporting the continuing growth and expansion of the sector. We want to harness this huge resource for our energy system, unlocking significant investment in the supply chain to create more green jobs across the sector and, importantly, to do so in a way that gives due regard to our marine environment and other marine activities."
Information for potential applicants will be accessed through an online portal.