In February 2019 New Power reported on the suspension of the Wylfa Newydd project:
Horizon Nuclear Power has suspended its UK nuclear development programme, which was to have seen a new plant built at Wylfa Newydd on Anglesey in North Wales, with a second to follow at Oldbury on Severn in South Gloucestershire.
Horizon's parent company Hitachi said: "The decision was made from the viewpoint of Hitachi's economic rationality as a private enterprise… it is now clear that more time is needed to develop a financial structure for the Horizon Project." Hitachi said the company would "move towards a suspended state organisation by the end of March 2019". However, Development Consent Order (DCO) work continues in the short term while the company consults with its stakeholders.
BEIS secretary of state Greg Clark set out the support offered by the government. It would consider taking a one third equity stake in the project, alongside investment from Hitachi and government of Japan agencies and other strategic partners. Clark said: "I was not prepared to ask the taxpayer to take on a larger share of the equity, as that would have meant taxpayers taking on the majority of construction risk and the government becoming the largest shareholder."
In addition, the government was willing to consider providing all of the required debt financing to complete construction as well as a Contract for Difference.
But Hitachi considered "the project still posed too great a commercial challenge, particularly given its desire to deconsolidate the project from their balance sheet and the likely level of return on their investment", Clark said. He added that BEIS remained in discussion with Hitachi but for future projects (namely Sizewell C and Bradwell) the government was considering a Regulated Asset Base model (see article, this issue). He promised a consultation in summer on the proposal.
Hitachi acquired Horizon for £697 million in November 2012. It plans to post an impairment loss and related expenses of approximately £2.4 billion and a further £2.4 billion as extraordinary losses for the year ending 31 March 2019.
What are the issues? In October 2018 we looked at the reactor planned for Wylfa Newydd
What can be expected of an operating ABWR at Wylfa? Hitachi and Horizon say the reactor is a "proven" design, with four units operating in Japan and two under construction. That is in question.
There have been four reactors of the Hitachi-GE ABWR design used at the site in operation in Japan, all of which have remained closed since the Fukushima accident in 2011. Two more that were under construction since the accident also await revival.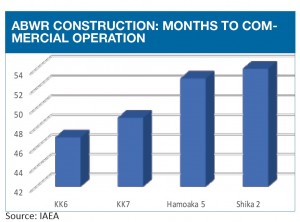 Construction periods have got longer for each plant.
That may not provide a guide for the UK. The biggest lesson in reducing the cost of a nuclear plant, according to Humphrey Cadoux-Hudson, EDF Energy's managing director for UK nuclear development, is to make it an exact copy of an earlier plant. "If you make a change to a nuclear power plant it leads to lots more changes," he told a recent World Nuclear Association meeting. "It is not hard to make a change that has huge ripple effects through the design. And it's not just engineering. [With an exact copy] all the people [involved] know what the design is and that the technical specifications work." He added: "In a world where you are concentrating on a changing design, your supply chain can't focus on improving efficiency".
Those words could apply to EDF's nuclear competitor at Wylfa.
The plants are not identical to their Japanese parents, in fact Nuclear Intelligence Week said "there's enough difference that any talk of a series effect is unlikely". The UK reactor is based on the first two units to go into operation, Kashiwazaki-Kariwa (KK) 6 and 7 "plus improvements implemented at Shika 2, Shimane 3 and Ohma 1", Hitachi-GE says. Variations are always required to adapt a design for specific site circumstances, and in any case the original design is elderly – work started at KK6 in 1992.
But the UK GDA process has, in addition, required a host of substantial design changes. There is an extensive list in Office of Nuclear Regulation documents.
Some changes involve hardware that could increase capital costs – add new containment that provides aircraft impact protection, and re-siting of emergency generators, for example. Some changes will present "first of a kind" challenges in both build and operation. They include a major redesign of instrumentation and control systems. That could extend a construction process that had already been slowing in the reactors completed in Japan  and will require comprehensive commissioning tests.
Other changes could have wide implications that may not reveal themselves in the reactor's early years.
For example, the ONR required changes to the chemistry of the water system in the reactor. It said: "While there is extensive operating experience of this regime globally, this will be the first time that any BWR will operate with this chemistry regime from the beginning of life. This decision will also impact on other aspects of the detailed plant design, such as material choices."
The choice of materials and how they age in the chemical environment are exactly the type of issues where series-build and experience of ageing issues help operators avoid unexpected problems during the reactor lifetime.
Hitachi is now taking on much more risk in delivering the project. Industry newsletter Nuclear Intelligence Weekly notes that the planned Menter Newydd engineering, procurement and construction consortium – which comprised Hitachi, Bechtel and Japan's JGC "is now defunct". Bechtel has been appointed in the smaller role of construction management company. NIW noted that Hitachi had never fully managed a nuclear constriction project before – certainly not outside Japan – and said "Hitachi's willingness to go it alone in terms of risk exposure for the time being is, depending on one's vantage point, a display of daring bravura or overconfidence."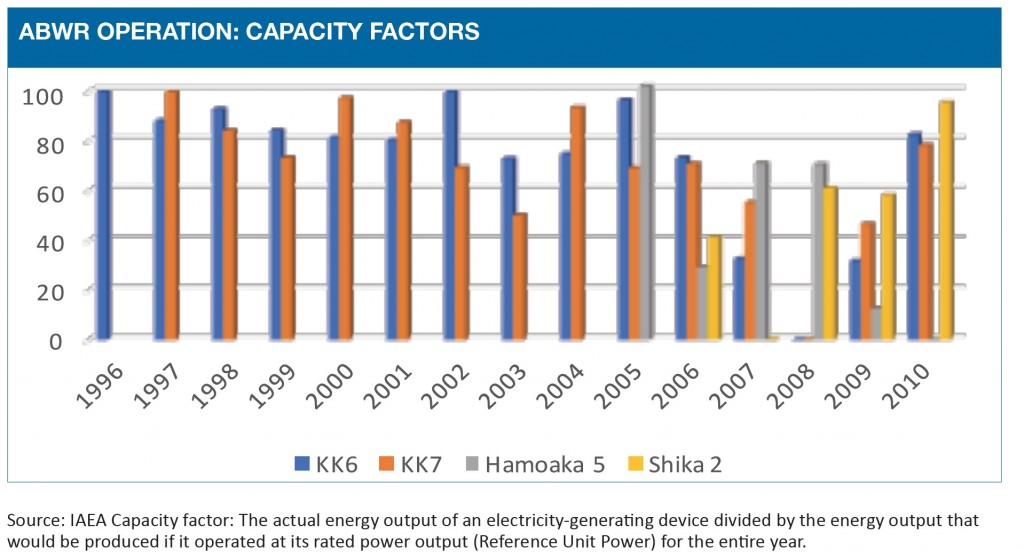 As for operation, IAEA figures show that the two Kashiwazaki-Kariwa reactors – the models for Wylfa Newydd – demonstrated high capacity factors in the 80 and 90% range in early years (the capacity factor gives the amount of power actually produced by the reactor as a proportion of what would be produced if the plant operated at full design rating at all times). It should be noted that performance is affected by Japanese utility operating strategies. Compared with utilities elsewhere, they have had longer shutdowns for maintenance and refuelling, and shorter periods between refuelling outages.
The UK has been taking a different approach, aiming to minimise periods when reactors are not generating. It will be for Horizon to decide whether to follow UK or Japanese precedent on that operating regime.
In later years they have been less successful. That was partly because of an earthquake in 2007. Hamaoka and Shika have suffered a variety of technical problems in and around the reactor and all four plants have suffered damage to the turbines (supplied by Hitachi and GE).