Expressions of interest must be submitted by 11 January for the Supergen ORE Hub Flexible Fund's 'third call for proposals' Up to £850,000 is on offer to fund up to 80% of research proposals from universities or other institutions for co-ordinated UK-led ORE research projects. Full proposals will be submitted between 27 January and 24 February.
Full details here
Deborah Greaves, head of school and director of the COAST Laboratory at the University of Plymouth, and of Supergen Offshore Renewable Energy (ORE) Hub, interviewed in New Power Report, October 2019 issue.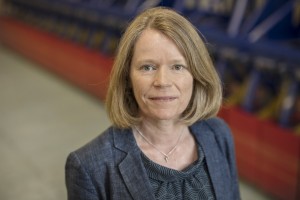 I meet Deborah Greaves at a time when offshore wind developers are waiting to hear news about the latest round of Contracts for Difference, The Crown Estate announces extensions to existing wind farms and Scotland's equivalent body mulls over the detail of a new seabed leasing round. The offshore wind industry has been hurtling down the cost curve in recent years and I want to find out whether we can maintain that pace, and whether we can replicate offshore wind's success in wave and tidal.
Greaves is the person to ask. She is heading the new Supergen offshore renewable energy (ORE) Hub, whose aim is "to bring together for mutual benefit the related research areas of wave, tidal and offshore wind in order to share skills, resources and expertise". I ask her where it fits in the development landscape.
She explains that this new four-year Supergen Hub was launched last year by UK EPSRC. It is fundamental research that is low on the technology readiness level (TRL) scale and sits at the start of the development pathway.
Supergen works very closely with the Offshore Renewable Energy Catapult, a consortium of universities and an industry advisory board that includes the Carbon Trust, policymakers and the third sector. "A lot of work was done with industry and academics to identify the research challenges as they see them and also try to capture the landscape of research that is going on. We try to make sure that what we are doing at the fundamental level has got a pathway through to commercialisation, is relevant to industry and is tackling the problems and getting the opportunities for cost reduction," says Greaves.
I suggest that research and development money is spread very thin across an industry undergoing huge change. Greaves says a key task is to bring people together, sharing the knowledge and letting people hear about who is doing the research: "One of the things that we need to do as Supergen that isn't very well understood at the moment is to project what value offshore renewable energy can bring to our future energy mix. We now have a climate emergency, and we have targets to reduce greenhouse gases to net zero by 2050 – that can't all come from offshore wind, or all from solar or wherever.
"We need to have that energy mix and understand how the different sources of renewable energy can balance together to provide the resilience we need. To project the vision of how that can work I think is part of our role."
She says that is about more than a cost comparison, because it would exclude early-stage technologies, whereas, "if we think about what we actually need to meet the challenge in 2050 then those early technologies will have to be in there."
Making progress
The new Supergen reshuffles the technology pack. Previously there was a Supergen for marine (wave and tidal) and one for wind (onshore and offshore). The new grouping reflects how the wind industry is changing: "In offshore wind you see a huge amount of build-out and lots of cost reduction, learning by doing, and the scale of the industry. What we would like to see… is that wave and tidal would follow the same pattern."
There are synergies across wind, wave and tidal. "A lot of the research that has been done for wave energy can be useful now in thinking about offshore wind solutions and all of these three different sectors operate in the marine environment, so sometimes they will have the same challenges," says Greaves.
One of the big challenges is the weather window and the time that you can spend on site
How much are onshore and offshore wind diverging? "For offshore wind this is about fundamental research to develop the industry. Onshore wind is seen as not needing the same kind of research," she says.
I note that onshore wind is seen as the lowest-cost new capacity and Greaves agrees, but she says "some of the research that we are going to be commissioning for offshore wind will also be useful for onshore. For example, work around control, operation and maintenance."
What are the options for bringing offshore wind further down that cost curve? Greaves says: that part of the aim for the sector deal is to have an increased proportion of the capital cost of the windfarm coming to the UK. There is a contrast in the supply chain between the wind sector and wave and tidal. In the latter, "there is the opportunity to get a much larger proportion of the project in the UK. These industries tend to be focused on the coastline. Coastal communities are often lower economic regions so the potential is if you do invest and develop in these technologies you can really rejuvenate an area,"  she says.
But offshore wind is in the lead, and looking beyond construction there is potential to reduce costs in operations and maintenance (O&M). That might include using autonomous systems, using AI to do some remote inspection and perhaps looking at remote repair. "There is quite a lot of technology to develop around that," she says.
One of the big challenges is the weather window and the time that you can spend on site."You could reduce costs and reduce the need for vessels and staff time by going to autonomous systems," Greaves says. "But also, you could help improve safety offshore – that is a big one."
Cabling has had some reliability issues, she notes. In the future, if we build further out as planned under the sector deal, "there are going to be a lot more cables on the seabed. It has come through our consultation that there is more to do on seabed interaction, on environment and understanding the environmental interactions."
She adds to the list new materials – including 'self-healing materials' – for the blades, the structure or the cables. That is to build larger turbines, but also because "we need to understand what the limitations are". The limits may be around the materials or the structure, manufacturing, or how we install and transport the turbines. We need to understand, as Greaves says, what the limits are in terms of the turbine structure in itself and – when thinking about the scale of the ambition – the limitations for the marine environment. "The question around the interaction with the environment is different when you scale up to very large turbines: you have to think about the cumulative effects of a number of large sites," she says.
Finally, she says, "the other big one [question] is recycling and the whole life-cycle cost of these very large blades. How will we recycle them?" Offshore wind farms have been designed with a typical lifetime of 25 years. "How would you decommission or re-use that site when they come to the end of their life?" asks Greaves.
I ask her whether it is better to have more small sites or fewer large ones. "In terms of the interaction with the marine ecology I don't think the answer to that question is really known. That's where it will be important to do more ecological modelling linked in with our hydrodynamic and aerodynamic modelling of the site in order to understand the population effects," she says.
When it comes to the turbines themselves, "the opportunity for the UK is more in the supply chain and the O& M. That is in the sector deal," says Greaves.
As the industry grows, volume opens up new opportunities. Greaves says that when there are many structures to maintain it will have to be automated. "It's just too expensive to be taking people out [to site]" because weather windows, vessel availability and many other things have to line up. On robotics and AI, "the full potential of what that can do to for us I don't think we understand as yet".
What have we learned so far? Greaves says: "There have been some early failures in some of the structures and I think we have learned from those." That includes the gearing, the cabling and the connection into the structure. These types of issues "aren't necessarily easy to predict before you go into the water. You do learn about the performance of the materials and the effect on the different components. I think there is potentially an opportunity to go back to some of those sites, and to perhaps learn more about things like the longer-term interactions with the environment."
I ask about the decisions that will be made about existing wind farms as they age, such as focusing on particular turbines (within wind farms that cover large geographical areas) that perform best. Greaves says that is an example of how AI and data will be used in O&M. "Depending on the wind and conditions, and perhaps the maintenance state of individual turbines, then you would individually control them. You would have some turbines that would be on and others that would not."
She notes that the wind farm design and operation are strongly connected to the layout and the wind conditions and wind direction. "And similarly for wave energy and tidal energy. Each turbine or structure that you put into the … fluid, whether that is air or water, is going to affect the flow around it. None can be treated on its own, so when you look at management of the farm, you need to look at the whole thing and the individual turbines. That might lead on to replacing some and not others.
"Even if you think about the ground conditions, it is over a massive area so it is not going to be consistent across the whole of the site. You would need to either come up with a very conservative design for your foundation, that you apply to the whole lot, or you could have a design for each individual [turbine]." She adds: "Obviously there is optimisation that can be done between the two extremes." Once again it is robotics, autonomous systems and AI that allow choices to be made between individual and generic solutions. "Maybe the technology is too late for that on a fixed offshore wind farm, but maybe it is an opportunity for wave and tidal," she says.
Further out
Greaves is naturally looking beyond current technologies and that means deeper waters, farther offshore. Those installations could not only look quite different but also be used differently.
Onshore wind saw incremental development, and so far, offshore has employed "very similar structures in shallow water. As we go further offshore we might see some radically different solutions." There is more than one direction technology could take, "but I think it is likely to be floating structures", she says.
In that case – and at increasing distance from shore – "questions come up around the cabling and whether you are going to have those farms grid-connected in the same way", says Greaves.
The oil and gas sector… know how to build large floating structures
She says research is needed into other ways to transport the energy. "You could do it as electrons, or you might transport hydrogen, or methane or heat – there are all sorts of potential different ways to think about it." She adds: "There are numerous other issues around production of hydrogen and it also potentially reuses a lot of our existing infrastructure. It's quite an interesting argument – it could be a difference from the fixed [wind] sector."
Can we take advantage of our experience in oil and gas? "There is lots of transferable technology from the oil and gas sector, because they know how to build large floating structures and tie them into the seabed," says Greaves. But the cost structure is different. Mooring and anchoring is a large part of the cost, but oil and gas platforms are larger than would be the case for wind turbines – and their aim is to start pumping as soon as possible.
"Offshore wind has multiple floating platforms and each one has to have its mooring and anchoring system, so that is a much larger proportion of the cost of the individual unit. That's what the challenge is,"  she says. There are other challenges, including limitations in the turbine blades and tower when it is on a small platform. "You have to design on a floating platform which is stable in order to support the turbine and allow it to operate within the limits it is designed for. Then you have to moor it to the seabed.
"There are a number of designs that are out there and have been demonstrated. There is the spar, which is for very deep waters, and then there are some semi-submerged solutions. These are all transferred from the oil and gas sector, but there is quite a lot of work to do to get the costs of those platforms down." She says the alternative might be to develop a really big platform and have a number of turbines on it, or combine it with a wave energy or tidal device.
I ask about replication, which typically cuts costs. "I think with floating offshore wind we are likely to end up with perhaps one solution," says Greaves. But that may not happen yet. "There are still possibilities for maybe a different type of turbine as well. It's definitely an opportunity for innovation and perhaps disruptive technology changes," she says.
She compares that with wave energy, where "we haven't seen that convergence… it is very debatable whether there will ever be convergence to a single type, partly because it is so location-specific. So you might see onshore, near-shore and offshore designs." With tidal stream, though, we are seeing convergence to a basic design resembling the three-bladed wind turbine.
CfD support 
Given the cost reductions in offshore wind, is it time to move it to the 'developed' pot in the government's Contracts for Difference support regime? Greaves says it is "very definitely" too early. "Although the UK is leading, and has the most offshore wind capacity, it is still 'learning by doing' and there is still further to go on that cost reduction curve. The CfDs work well for offshore wind: the industry has a price challenge and then it can be met."
The CfD does not work as well for Supergen's other technologies. "One of the problems we have with the wave and tidal sector is that they are in the same pot and there is just no way they can compete at the moment," she says. Will floating wind face the same barrier? "Yes, I think so. How floating wind would be dealt with has to have some thought." That may mean a different approach.
Pelamis…was forced to go too big, too quickly
"The tidal and wave community have made a strong case that they need to have some specific subsidy for the stage and the position they are at. The same thing would apply for floating offshore wind but the difference with that is that it can be seen as a progression from fixed offshore wind, so the industry is already well established to move to that new innovation."
In some ways the jump from fixed to floating wind is a more difficult challenge for a support mechanism, she says, "There is still a lot of opportunity for fixed offshore wind, so at what point do you need to say this now has to be floating [wind], and we are going to have something special for it? We are still pushing some of the [fixed offshore] foundations to deeper water, so perhaps as an industry we don't know fully where the limitation is on fixed turbines."
Greaves sees plenty of opportunity for the big players in fixed offshore wind. Might that push floating turbines onto the 'back burner' when we should be trying to move it forward?
She says that is true not only for floating wind but also for wave and tidal. "That's why one of the things we need to do is have a vision for 2050 and what our energy mix looks like then – and make sure that we don't forget that.
"That is something we can't leave to the market. it needs government support and buy-in for that vision and the elements that feed into it."
Wave and tidal
Wave and tidal has been a promise for such a long time. What can we do to make it work?
Greaves says there have been commercial failures more than technical ones. Onshore wind developed incrementally, over many years, "in a safe – not too public – environment, to grow the technology and build-out." But with wave energy or tidal stream "you have to demonstrate in the sea – not quite from day one, but there is no stepping stone. You have to deal with that marine environment from the beginning and that is challenging," she says.
"Tidal stream technology has really seen convergence and there is a huge amount of experience. We have the Meygen project, which is injecting power into the grid. The problem there is the lack of financial incentive. We need to get a proper subsidy and a proper power purchase agreement of some sort. It cannot compete in the CFD with offshore wind… I think with a proper market, investors could come and move it forward.
"With wave energy, there have been commercial failures and some of them are very public. Pelamis is the one that people are familiar with. That was possibly because of the way the financing was structured. It was forced to go too big, too quickly, and get a bit locked into the technology. It became just too expensive and failed.
"It's very important when you're talking about getting something to work in an energetic marine environment and getting it to survive the storms, that you need to go through the steps of development to learn as you go." That includes ideally half or third scale, a nursery test site in the sea and then full-scale demonstrations. All of those steps are important. Greaves is confident that "the technology is there, it just is not cheap enough yet, so we need to do the development. And there are areas of research that need improving."
Part of Supergen's role is to make the case and to try to communicate the opportunity, but "we are not a lobby group. We should be giving a dispassionate argument for why this is important."
That means, according to Greaves, "focusing our research to de-risk and improve reliability. There have been some failures that have been very public that has made it difficult for investors to go into the industry. We need to rebuild the reputation and help bring in the support and make sure it still on the agenda." But she adds: "We need a coordinated industry speaking with a single voice in order to secure the support that is needed. The point is, it is a massive resource on the scale of offshore wind. It is a really important part of our future energy mix and we can't drop it and we are world leading."
SuperGen HUB
A large element of the Supergen's work is building a network, communicating and helping to sustain the research environment.
An early output about to launch is an online tool showing the research landscape. Greaves explains; "The idea of that is that it is a visual infographic tool. It has various different levels … with graphics and eventually you can get to the research papers and links to the project and so on. It should be useful for everyone from school children, to politicians wanting super messages, to researchers in the industry who want to get the detail and know where to focus their work.
"It will be a fantastic tool to communicate what we are doing."
New Power Report subscription includes:
Weekly email Update
Monthly New Power Report – analysis and insight
Access to our online Database  - search and sort data on 2500 UK power assets
For more details and to join our next free trial, send your name, job title, company and email address to Daniel Coyne: [email protected]
Subscribers: login to read many more interviews in our editorial archive. Here is a selection:
Mark Wilson, ILI Energy:  Janet Wood spoke to an entrepreneur who is translating a relationship with farmers in Scotland into ambitious plans to help meet the GB energy market's desperate need for storage.
Andy Kinsella, Mainstream: Renewables are taking over the world – could the UK lose its lead in offshore wind? Mainstream Renewable Power is one of a "new class of renewable energy majors", according to the company's group chief executive Andy Kinsella.
Mick Farr and Scott Keen, Triton Power Triton Power is grappling with the Capacity Market hiatus alongside other issues. Janet Wood talked them over with president and chief operating officer Mick Farr and commercial director Scott Keen
Maxine Frerk, Grid Edge Policy At Ofgem and Decc, Maxine Frerk was at the centre of major industry steps towards a smart system, including RIIO and the smart meter rollout. She spoke to Janet Wood about those developments now
Emma Pinchbeck, RenewableUK Renewables are now big business for energy and for UK Plc. Emma Pinchbeck looked at their long-term development with Janet Wood
GemServ's Alex Goody Some of the hardest issues to be dealt with in energy are in software and data. Gemserv chief executive Alex Goody discusses them with Janet Wood
Mark Elmer and John Greasley, Nemo Link Nemo Link, a 1000MW interconnector between the GB and Belgian markets, is due to go into operation in the next few months.
Greg Jackson, Octopus Energy Greg Jackson brings experience of retail and of new technologies to the energy supply business.
Louise Manfredi, Leep Utilities This month Ofgem published an update on its plans for competition in expending transmission networks.
Roger Hey, Future Networks Manager, WPD DNOs are accused of being barriers to a new energy system. WPD future networks manager Roger Hey says that's far from the case
Jim Watson, UKERC Reducing demand and maximising flexibility are the keys to a resilient energy system, according to new work by UKERC. Janet Wood spoke to Jim Watson about the report's futures and managing the transition
Lesley Rudd, Sustainable Energy Association The home is where much of the innovation in the energy industry has to take place, whether it is using new technologies or in convincing consumers to be more active energy users
Jo-Jo Hubbard, Electron Jo-Jo Hubbard spoke to Janet Wood about the threats and opportunities of blockchain, and the experience of innovation in the energy industry