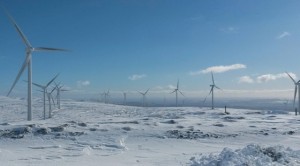 Greencoat UK Wind has acquired the remaining 50% interest in Braes of Doune wind farm for £48.1M, having acquired its original 50% stake at IPO in March 2013. It has also agreed to acquire a 49.9% interest in Kype Muir Extension wind farm from Banks Renewables for £51.4M, to be paid once the wind farm is fully operational, plus construction finance of up to £47M.
Braes of Doune, in Stirlingshire, Scotland,  comprises 36 Vestas V80 2MW turbines, with a total capacity of 72MW. The wind farm was commissioned in June 2007 and receives 1 ROC per MWh. The stake was acquired from funds managed by the infrastructure team of the international business of Federated Herme.
Kype Muir Extension is located in South Lanarkshire, Scotland and will comprise 4 Nordex 3.6MW turbines plus 11 Nordex 4.8MW turbines, with a total capacity of 67.2MW. The wind farm is subsidy free and will benefit from a 15 year fixed power price agreement with a utility. Full operation is targetted for Q4 202,2 with first utilisation expected in July 2021.
Greencoat said that following its recently completed share placing, raising gross issue proceeds of £198M,  it intends to repay £160M of its revolving credit facility , reducing borrowings to £240M. Together with £700M of term debt, total borrowings will be £940M,  28% of gross asset value.
Stay up to date with New Power – subscribe to our FREE weekly newsletter here
Further reading
Greencoat UK Wind seeks £198M to fund acquisitions
Vattenfall and Greencoat Wind agree go-ahead for South Kyle wind farm
EDF Energy Renewables to sell majority stake in five UK wind farms