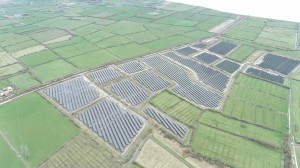 Solar investor NextEnergy Capital Group has claimed the record for the largest solar farm constructed and energised in the UK with the 75MWp Llanwern farm.
The £43M solar farm in Newport, Wales is one of two new subsidy-free solar farms brought into operation with a combined installed capacity of 115MWp. The second is Strensham, in Worcestershire, England, which has an installed capacity of 40MWp at a cost of £25M.
Llanwern is a Development of National Significance approved by the Welsh Assembly in 2018. It was constructed during the Covid-19 pandemic and employed over 200 workers on site at peak construction.
Because the 260Ha site (in three parcels) is in Gwent Levels, an area with unique ecology, a special 40-year ecological management plan was agreed in partnership with Natural Resources Wales (NRW), Royal Society for the Protection of Bird (RSPB) and other stakeholders including Newport Council.
Both projects were financed by Santander Group.