For the second time within a month fire has broken out at a facility in North Carolina, US, processing wood pellets for Enviva, a major supplier of biomass to UK power plants. Campaigners in the southern USA say this is the second fire at the Faison plant, in Sampson County,  this month and cite five other fires at Enviva facilities since 2014.
The fires come as the EU is debating how to classify biomass for power generation in its so-called 'taxonomy' of power generation options. Biomass is a key technology in forested countries such as Scandinavia – and also in the UK, where in a large proportion of biomass fuel is imported.
European campaigners were disappointed that the current version of the taxonomy does not include language ensuring biomass for fuel does not include 'whole trees'. Biomass suppliers insist that their pellets are made from thinnings and branches that would otherwise be discarded and say using such material is an important revenue stream that maintains forests. Others disagree, and also disagree markedly with estimates of life-cycle emissions from biomass use, especially where it involves processing and long distance shipping. Enviva estimates that using wood pellets emits less than 200g of carbon dioxide per kWh or electricity generation, which it says is an 87% reduction in lifetime greenhouse gas emissions when replacing coal results and a 72% reduction in comparison to natural gas.
EU campaigners were also disappointed that the EU's taxonomy does not  describe biomass as a 'transitional' fuel. The UK, for one, says biomass with carbon capture and storage will be an important 'carbon negative' technology in the route to Net Zero.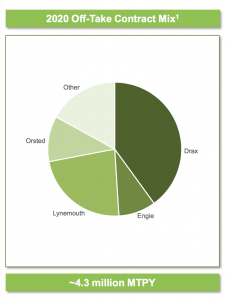 Enviva describes itself as the world's largest supplier of utility-grade wood pellets in a highly fragmented industry with numerous small, single-plant operators, noting in a market update in March that it is "frequently the sole-source supplier for our customers", who buy its pellets under long-term, take-or-pay off-take contracts.
It is planning to grow its production capacity from around 5200Mt/y to 7000Mt/y by 2022, (it says Drax, also a major customer, plans to increase production in its new merger with Pinnacle from around 4000Mt/y -5000Mt/y in the period).  Its major customers in the UK include Lynemouth and Drax (see left) and it will supply MGT on Teesside as well as planning substantial new contracts in Japan.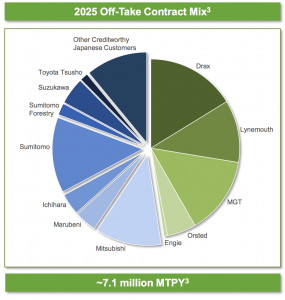 Aside from debates over the value of biomass in reducing greenhouse gas emissions, US environmental campaigners say wood thinnings removed to form the pellets play a role in broader environmental health such as natural flood management. They say that processing facilities are sited in low-income areas and fires add to concerns over air quality and emissions of volatile organic compounds and particulates from processing sites. Earlier this year, Enviva  paid $7,300 in civil penalties for equipment failures in 2020 that resulted in violations of air quality permits.
Further reading
UPDATED: US subsidiary hit by $2.5M emissions penalty as Drax presses ahead on global biomass growth plans
Nuclear, CCGT, biomass the winners as system operator continues to struggle with low demand