The fourth round of the Contracts for Difference (CfD) scheme has secured almost 11GW across a 93 projects representing a range of technologies, including offshore wind, solar, onshore wind, floating offshore wind and tidal stream.
Almost 7GW has been secured from new offshore wind projects around the coastline of Great Britain, at a price of £37.35/MWh, well below the £46/MWh administrative strike price (in 2012 prices, see technology clearing prices and capacity below).
enough to increase the country's overall capacity built and under construction by 35% and take a significant step towards meeting the government's 50GW of offshore wind ambition by 2030.
Onshore wind secured almost 0.9GW of new capacity, while solar secured more than 2.2GW. Both were included in a CfD auction for the first time since 2015.
The fourth round also saw tidal stream and floating offshore wind projects successful for the first time. Tidal stream returned a capacity of 41MW and floating offshore wind returned 32MW.
The projects in England, Scotland and Wales already have planning permission.
]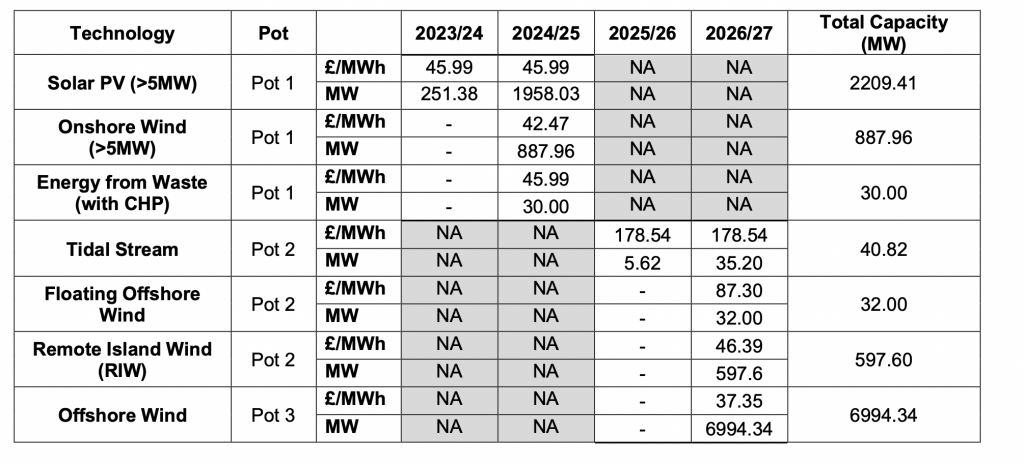 Full details of the successful bidders here
Among the winning projects, SIMEC Atlantis Energy won a contract for the 28MW MeyGen site at a price of £178.54/MWh. The company said it was targeting financial close for this next phase of the project by 2024 with operation starting in 2027.
World's largest
Ørsted won a £37.35/MWh contract for Hornsea 3, the world's largest offshore wind farm at 2,852 MW. The company said it has already announced agreement for Hornsea 3 to be the first and lead customer at SeAH Wind's monopile factory in Teesside, underpinning SeAH's investment decision to establish a new, globally competitive monopile factory in the UK.
Martin Neubert, Deputy Group CEO and Chief Commercial Officer at Ørsted, said: "We remain fully committed to financial discipline. The strike price is inflation-indexed and the contract comes with a level of merchant flexibility. We have already secured capacity with key suppliers for around two thirds of Hornsea 3's Capex. Also, we can unlock significant synergies by taking a global portfolio view in procurement and by utilising Hornsea 3's size and location adjacent to our existing UK East coast wind farms with close to 4GW in operation."
When Hornsea 3 comes online, planned for 2027, Ørsted's Hornsea 1, 2 and 3 will have a total capacity of in excess of 5 GW, making it the world's largest offshore wind zone.
The Hornsea Zone will also include Ørsted's Hornsea 4 project, which could have a capacity of approx. 2.6GW. Hornsea 4 is currently going through the planning process with a decision expected in early 2023.