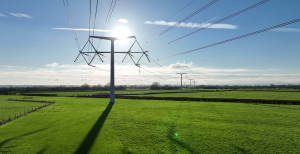 National Grid has energised 36 so-called 'T-pylons' between Bridgwater and Loxton in Somerset. The pylons are part of the £900 million Hinkley Connection Project, a new 57km high-voltage electricity line.
High-voltage electricity – up to 400kV – is now passing through the T-pylons, a newly constructed electricity substation at Sandford and 8.5km of underground cables through the Mendip Hills Area of Outstanding Natural Beauty. A further 80 T-pylons will be completed and energised by 2024.
The T-pylon design, the first major UK redesign since 1927, has a single pole and cross shaped arms, and is around a third shorter than traditional high-voltage pylon design with a smaller ground footprint. The new design was selected from over 250 designs entered into an international competition run in 2011, organised by the Royal Institute of British Architects and government (the then Department of Energy and Climate Change).