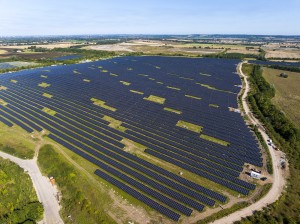 Veolia has begun operations at a 59MW solar array on a restored landfill area. The site at Ockendon, in Essex, has been developed with technology provider REG Power Management. This additional renewable capacity adds to Veolia's existing solar energy facilities at Ling Hall, Warwickshire and Netley, Hampshire, as well as other PV installations on hospitals, offices, water treatment works and recycling centres.
The Ockendon site is using around 107,000 bi-facial solar modules, each rated at either 540W or 545W, which absorb light on both sides. An on-site 132vV transformer that is connected to the nearby Warley substation.
The "Powering Up Britain: Energy Security Plan", published by the Department for Energy Security and Net Zero in March 2023, commits to a five-fold increase of solar capacity in the UK from 14GW to 70GW by 2035. This requires a project on the scale of Ockendon being installed roughly every five days from now until the end of 2035.
Veolia generates 800GWh of electricity annually using a combination of solar, biomass, biogas and waste to energy facilities that qualify under the Renewable Energy Guarantees of Origin (REGO) scheme.