Statoil today announced a new battery storage solution for offshore wind energy, dubbed Batwind.
The concept will be piloted by the world's first floating wind farm, the Hywind pilot park off the coast of Aberdeenshire, to help develop the technology for implementation in full-scale offshore wind farms. The wind park is currently under construction and expected to be commissioned in 2018. Statoil will install a 1MWh Lithium battery based storage pilot system in late 2018.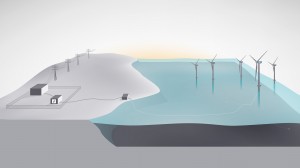 Batwind will be developed in co-operation with Scottish universities and suppliers, under a new Memorandum of Understanding (MoU) signed in Edinburgh on 18 March between Statoil, the Scottish Government, the Offshore Renewable Energy (ORE) Catapult and Scottish Enterprise.
Stephen Bull, Statoil's senior vice president for offshore wind, said: "Through the Batwind concept, we can optimise the energy system from wind park to grid, applying advanced data analytics. Battery storage represents a new application in our offshore wind portfolio, contributing to realising our ambition of profitable growth in this area."
Scotland's Energy Minister Fergus Ewing said: "This will help maximise the renewable generation of the Hywind offshore wind farm, whilst informing the case for energy storage and demonstrating the technology's ability to support renewables in Scotland and internationally."
Andrew Jamieson, Chief Executive of ORE Catapult, said: "We are developing a programme that will match Scottish supply chain capabilities and research excellence with the technology challenges of developing innovative battery storage solutions, ensuring Scotland and the wider UK benefits from the economic opportunities presented by this internationally important project."
Related content: RES to build battery energy storage facility for WPD in Somerset
Jill Cainey, director at the Electricity Storage Network, talks about a new energy storage system – and new uses for existing capacity
Subscribe to New Power for full analysis, comment, interviews and data in our monthly report, and access to our database, or sign up to our FREE e-newsletter for website updates