Specialist divers and archaeologists have completed an operation to retrieve the wreckage of a 1943 Fairey Barracuda Torpedo bomber found by National Grid engineers last summer during a seabed survey ahead of the construction of the IFA 2 Interconnector.
The three-seater plane, part of 810 Squadron Royal Navy Air Station (believed to be No. BV739), based at Lee-On-Solent is believed to have got into difficulty shortly after taking off for its test flight before crashing 500m from the coast in Portsmouth. The Barracuda wreckage is the only one to have ever been found in one piece and the last remaining aircraft of its kind in the UK.
David Luetchford, head of IFA2 for National Grid said: "Over the course of the project we've inspected over 1,000 targets of interest, many of which were found to be unexploded ordnance, not unusual given the history of this location. However, to have found a 1943 Fairey Barracuda torpedo bomber is incredible and such a key piece of British history.
It's not every day you get the chance to play a role in an operation like this and it is very lucky to have found the plane in such a small search area. We surveyed a 180-metre-wide area along the cable route and if we had chosen a slightly different route, there is a good chance the plane would never have been found."
Work to fully retrieve the plane is expected to take around three weeks in total as experts from Wessex Archaeology are carefully excavating the area around the aircraft and removing large amounts of silt and clay.
So far, one of the wings has successfully been lifted out of the waters and work on the second is currently underway. The remainder of the plane will be recovered by lifting it in sections over the coming days.
Wessex Archaeology lead archaeologist Euan McNeil said: This aircraft is a rare find and a fantastic opportunity to understand more about a piece of wartime technology.
"We have been undertaking the excavation under a licence from the MoD, and it has taken careful planning to ensure that we lift the remains and any associated material which may have been scattered as it sank – without causing its condition to deteriorate significantly. This has involved excavating the silt around the plane and sieving it for artefacts, then carefully dividing the remaining structure into manageable sections for lifting.
"The recovery of the Fairey Barracuda will aid an ongoing Fleet Air Arm Museum project to recreate what will be the world's only complete example of this type of aircraft. This will give us a chance to examine a unique lost piece of aviation history"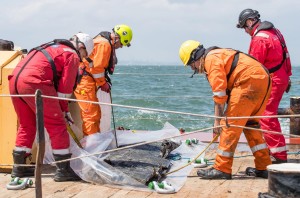 Once retrieved, the parts will be taken to the Royal Navy Fleet Air Arm Museum in Somerset where it will be studied and used to rebuild a full-size Barracuda in the site's aircraft hangar.
David Morris, curator at The National Museum of the Royal Navy has been working on the project for several years and visited four other Barracuda crash sites to retrieve suitable parts.
He said: "This is an incredible find and a wonderful piece of British history. There are very few blueprints of the Barracuda plane design available so this wreckage will be studied to enable us to see how the plane segments fitted together and how we can use some of the parts we currently have."
The plane's pilot has been named as SUB LNT DJ Williams who managed to escape the crash and survived WW2. The team at Wessex Archaeology are currently trying to trace SUB LNT Williams and are keen for anyone with information about the pilot and his family to get in touch on 01722 326867.
The Interconnexion France-Angleterre 2 (IFA2) is National Grid's second electricity subsea interconnector to France and is a joint venture with French System Operator RTE.
Watch film of the lift here
Further reading
E.On to dispose of two offshore bombs at Rampion this week
ElecLink seeks feedback on access and charges – but will re-assess charges in the event of a no-deal Brexit
Interconnector access rules agreed to cover no-deal Brexit
Viking Link interconnector granted onshore planning approval
Nemo Link: will power flow across the interconnector in a no-deal Brexit?