An interesting chat with the mayor of a small market town over the weekend. He was deeply concerned by the lack of EV charging points in the town. He wants to attract passing motorists to stop off, top up their charge, take in the town's historic attractions and at the same time take advantage of the town's cafes, shops and other businesses. But for those planning a journey, a view of EV charge point maps showed nothing but a blank in the area that falls within his mayoral chain of office. 
New Power has argued that the way to view EV chargers is not always as like-for-like replacements for a petrol pump. It will be equally useful – and potentially more beneficial for the location –  to encourage people to top up where they spend an hour or two (and, in the case of local high streets like this one, spend an hour where they top up). 
We brainstormed some potential locations and the mayor went off to contact EV charging companies – and added to his list the supermaket, gym and pub chains represented in the town to see whether they would find charging points on their premises mutually beneficial.
It's great to see how quickly EV chargers are being seen as not only positive but necessary. Government should take note and widen its help to local authorities who want to take advantage.
UPDATE: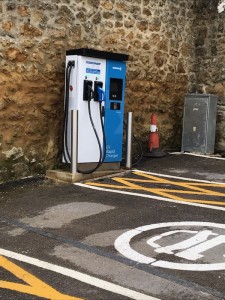 It's in! A charging point has now been installed. So if you are heading along the A303 in Somerset, stop off in Ilminster to refill your eV (and yourself, in the local cafes).
Further reading
Health clubs to add fast EV charging to the mix
An electric vehicle charging point could be a real convenience
Code launched for domestic EV charge point installers
Two 50MW batteries to power Pivot Power's first EV charging sites by year-end
Lanarkshire project could see 500% increase in public EV charge points