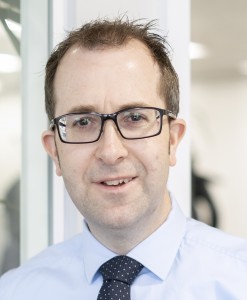 Janet Wood talked to Mike Lockett, Uniper's chief commercial officer, power, and UK country chairman, about how a fossil generator sets out to be carbon neutral in less than two decades

A year ago Uniper announced a carbon neutral target for 2035 – just 14 years away.  So when I meet Mike Lockett (left), who is both chief commercial officer power for Uniper and UK country chairman, I want to know what exactly that target means in the UK.
Recalling that the target is branded 'Empowering energy evolution', Lockett defines it as "Carbon neutral by 2035 in European power generation," which represented €7.6B of its €50.9B revenues in 2020 and €492M of its €998M earnings. Uniper's  UK portfolio is mostly made up of seven fossil-fuelled power stations
"The company as a whole has global businesses with very different sets of objectives in very different sets of policy frameworks and regulation," Lockett says. The other major components are a global commodity trading business and a power generation business in Russia.
Looking back to setting the target, Lockett says that at the end of 2018 there was an appetite for concrete policy targets in Europe, on decarbonisation. The company made its 'evolution' statement, "because 2050 is a long way away and you can make almost any statement you wish to and nobody could argue" on whether it is technically or commercially possible. But "2035 is on the horizon and for people who have been in the energy industry, as I have, for 20 years, it is the second part of a career".
Digging into the target, he says it may mean a combination of different technologies and there may be "some elements of offsetting in order to achieve that goal".
But he says, "With the power sector playing its role in helping decarbonise other sectors like transport and possibly heat, not only have we got to get our own house in order and face the challenge but we have to provide a service to other sectors". This 'enabling' is where "Uniper wants to and will position itself … From being perceived as part of the problem, because we are a significant emitter, to being very much part of the solution."
Enabling other sectors is where Uniper wants to and will position itself
The UK's 6.4GW of generation is a significant proportion of Uniper's 23GW of European plant, which comprises  8.3GW of coal and oil, 8.8GW of gas plant and 5GW of hydro and nuclear. In the UK it has six gas-fired plants, and a coal-fired station at Ratcliffe-on Soar that has capacity market agreements in place up to the end of September 2024. A decision on a closure date has yet to be made, but it will be in line with government policy, ie by 1 October 2025.

The 2035 target is "a neutral result overall for our European generation and we will deliver that as a combined portfolio. There isn't a specific UK in its own right – it may be if specific technologies are sited in the UK it could be that the UK is providing the support for other parts of the European portfolio that cannot meet its targets,"  Lockett says.
Delivery mechanisms needed fast
How does that fit with the UK's carbon budgets? Lockett says, "The pathways are simply not clear yet, particularly around Europe.  We have seen different statements of intent re decarbonisation across different sectors and different areas of the economy. We have also seen different approaches. Some nations promote large scale technology development, whereas the UK is going for more of a de-risking, via market mechanisms and support mechanisms that allow for competition between different technologies and different approaches."
Lockett describes the UK as "very clearly one of our priority markets". He says, "We think the GB power market overall is an attractive one for the development and decarbonisation technologies including hydrogen. There is a clear statement of intent from government, with a significant programme behind it of legislation, of potential mechanisms and of consultation."
The UK government has certainly made ambitious claims about Net Zero, but what has been noticeable this year are calls for policies that will deliver it. Lockett says for Uniper as well, "That is what we have been calling for."
He says the next critical piece of the puzzle is the overall hydrogen strategy, "And the question is whether they provide a framework that will allow us to invest." Such a framework would have to  "de-risk elements of the investment to allow private companies to come forward at scale with their various technologies, projects, programmes of work, and importantly that all these link together."
He says he is encouraged, because the ten point plan and the energy white paper acknowledge that, "We have to have hydrogen production linked to the demand for – and commercial arrangements for – the use of low carbon hydrogen and we need to have the storage and transport infrastructure in place for CCUS, whether that is used directly or in the production of low carbon and blue hydrogen" . That will not happen with one company going it alone, which is why he thinks identifying and launching industrial clusters is key to the programme.
How fast do policymakers have to move now – and when does it become too late?
Lockett points to the Climate Change Committee's sixth carbon budget proposals, which he characterises as getting technology proved during the mid 2020s, followed by a building 'blitz' in 2030-35 likened to the dash for gas in the 1990s.That doesn't work for him: "I would like to be well ahead of that. I don't think we should be aiming for absolute technology proof and then very rapid scale-up."
A lot of the UK CCGT fleet will need decisions made about its future over the next couple of years.
He has concerns about security of supply in the interim. The UK's current CCGT fleet is providing a partner for renewables, he says, but for Uniper and other gas operators, "A lot of the UK CCGT fleet will need decisions made about its future over the next couple of years. Many of those early assets from the original dash for gas are coming to their end of life in the mid 2020s. If we want those to be available through to the mid 2030s while we ramp up low carbon technologies we will need to make investments in them.
"We would much prefer to make a single investments that go in the right direction towards decarbonisation, whether that is switching to low carbon fuels or utilising CCS."
In the interests of the UK market and of efficient capital investment "we should be making those investments once," he says.
Industrial hub
Connah's Quay in north Wales is one of Uniper's key development areas. Lockett ticks off its assets: "That site is coming towards the end of its operational life, but it is in an excellent location. It has pipelines connecting it to depleted offshore fields between Liverpool and North Wales which would be ideal for storing captured carbon. It has Welsh renewables on its doorstep, it has the interconnector cable from Scotland landing right next door bringing Scottish renewables onto site and we have the Merseyside and Deeside industrial cluster just a few tens of kilometres away.  We have the existing salt caverns in Cheshire for natural gas storage that could easily be repurposed for hydrogen."  It is "prime for development," he says, "It's not just Uniper: the UK has to make the most of that embedded flexibility that we already have in our energy portfolio."
That may work for Connah's Quay, but other plants are not so well situated. Depending on the future for its sites around London they may need, for example, a supply or offtake of hydrogen. I suggest that would be a barrier to implementing major changes.
Lockett doesn't disagree. He says that that the company is "very keen to allow a market to develop" for  a combination of hydrogen and other low-carbon gases used as a fuel source connected with CCS. But government has to "put the framework in place, to allow for the risk of stranded assets and the risk that there isn't a hydrogen offtake for any produced hydrogen. Those are the kind of thing we are looking for in the policies and frameworks that hopefully will be coming out from government, so we can allow those technologies to compete.
"We shouldn't as a nation be backing one horse or another, whether it is CCS, blue hydrogen, green hydrogen. Let's see how that develops over the next two decades.
"It is such a massive challenge, in my opinion we have to get all of them started pretty much immediately so we can get all the technologies developed and allow the overall costs to come down."
He makes an analogy with offshore wind, "if you allow companies to compete at scale in a risk-reducing [ie CfD] framework … then you can realise cost efficiencies and scale efficiencies that no-one really imagined when we were looking at the cost of offshore wind ten or fifteen years ago." I suggest that the offshore wind comparison breaks down, because wind was (initially at least) a straighforward swap of one form of generation for another, so scale was relatively simple to achieve. In contrast, options like hydrogen need other business models to make them work, such as a hydrogen or CCS network.
Lockett admits, "The technical production and utilisation of H2 is much more complex for that reason: there is not a ready market for it" and says that is why the clusters are the right approach. "You have to get the geography of a cluster up and running where you can have a relatively balanced demand and supply for certain types of hydrogen. If you are going to install a couple of hundred million pounds worth of asset that has got carbon capture on it, you have to make sure that the pipelines for storage are working and are ready along a similar timeline to enable your project to succeed."
Overall, co-ordination is a key challenge because it requires "both technological and commercial change on a significant scale from a significant number of different actors in that local economy".
It requires both technological and commercial change on a significant scale from a significant number of different actors in that local economy
Not a cluster?
As well as Connah's Quay we discuss two more of Uniper's sites that could become the centre of a 'cluster' with a variety of energy roles.
Killingholme has already been converted from a CCGT to open cycle gas and Uniper is installing synchronous compensation with Siemens. "This is an enabler to allow for greater renewables in that area." It will be developed as part of Zero Carbon Humber, with CCS that then could be used to provide decarbonised power and low carbon hydrogen(green or blue)  to customers in the industrial cluster. "Exactly what our Killingholme asset looks like in 2035 is still open".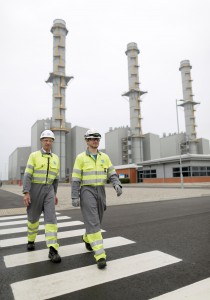 At Grain (left), Uniper is talking about forming a cluster with on-site CCUS for production of blue hydrogen. Because of its proximity to London it could provide decarbonised power and decarbonised gases into London. "It might not appear immediately to be an ideal location for a cluster but when you look at it has a lot going for it in terms of the technology and the skills of the people," and the LNG import terminal offers other possibilities.
Other plants do not have that option. What would be the options for a site like Enfield, on the outskirts of London? Uniper is working with General Electric on an efficiency upgrade for that plant and Lockett says it is about the plant being  "ultra-reliable, ultra-flexible and ultra-efficient in its contribution to the next decade of providing energy supply."
He says, the solution for Enfield, "whether it is hydrogen production or a carbon capture solution", is further down the line and it will depend how the technologies develop.
I still have the supporting businesses in mind and I suggest that, for example, using Enfield to produce hydrogen (or to burn hydrogen instead of natural gas) would require a pipe network. Is that going to happen in Lockett's timeframe? He says, "By 2035 who knows … which technology and which infrastructure we will have. It is technically possible."
He adds, "We have the next decade to determine what solution would eventually be used at Enfield – and also what kind of service is required from assets like Enfield". He expects to run it in CCGT mode for the next decade but says it could look very different after that.
It seems to me that all the decade would be needed to plan and install any network for an alternative future and Lockett says that is why he wants to get initiatives off the ground in the next couple of years. National Grid has spoken about joining up clusters with a national hydrogen network, "and these don't get built overnight, so when we are talking about planning, the kind of infrastructure needed in the early 2020s and getting it in place is so critical."
Who needs the energy?
The story of the last few years has been a change from gas-fired plants being valued for their energy supply (ie baseload power) to selling so-called ancillary services required for stability. Which will be the balance of those two products by 2035?
Lockett says those ancillaries, like voltage and frequency control, were "traditionally provided almost for free" from big generators. He  says that Killiingholme is shortly to host a synchronous condenser (see below) to provide stability services and he expects it will eventually host two, plus another two at Grain. He notes that we are talking at the end of a low wind period, and  says that by the late 2020s some sites would be providing services from instantaneous support to multiple days of energy production. That means ancillaries could be the main product, and Lockett adds hydrogen: "you have to optimise the production of power, production of low carbon gases, the consumption of low carbon gases, provision of gas for heating and transport."
Competing with the specialists
Having fixed integrated sites seems like a risk for providing that variety of services. I ask whether new investors who can invest fast and frequently in single assets could drive Uniper driven out of the market for some of those products. Lockett says, "I don't believe so," partly because that competition also opens new opportunities for Uniper.
He explains, "Perhaps five years ago we would not have considered investing in synchronous compensation and we are investing some significant tens of millions. It's a new market for us and once those units are spun up and synchronised they are not burning a primary fuel to provide stability services. Yes, they draw a small amount of power from the grid but compared to running up a CCGT … it offers us opportunities."
And he says, "the scale of the challenge is so big that it needs all of us, whether you are a small-scale aggregator, demand providing flexibility, or someone willing to invest tens of millions
"… we can't afford a five year debate about whether we build one or five clusters or wait for local small scale electrolysis on everyone's house." Similarly in the debate over hydrogen or heat pumps for domestic heating: we can't wait for a five year debate to be over, he says, we have to take both forward now.
Perhaps five years ago we would not have considered investing in synchronous compensation and we are investing some significant tens of millions
Building the hydrogen trade
Uniper is a significant global gas player, which of course gives it an interest in maintaining global gas markets. But I want to know what potential there is for a hydrogen market.
I've been told in the past that hydrogen shipping would be much more technically challenging than liquified natural gas, for example. Lockett talks about liquified hydrogen as a possibility but there are other options, such as moving ammonia as a 'hydrogen carrier', so the possibility of a global market, and the cost efficiencies that come with it, is a real one.
Lockett says Uniper can bring experience to bear for example on building a market – making sure that using solar to produce hydrogen or ammonia in the middle east can compete with production from offshore wind in the UK and allow for arbitrage.
At the moment "We are in the infancy" for hydrogen markets, he says. "There is no recognised global benchmark for hydrogen and that needs to change." But importantly, "The key thing that is going to help drive this is the certification of different competing forms of hydrogen."
There is no recognised global benchmark for hydrogen and that needs to change
Certification is needed to allow so-called blue hydrogen (from gas with CCS), which he puts at 70% or 80% decarbonised, to be priced against green hydrogen (from renewables and electrolysis), which he says is in the "high nineties when we take the whole life cycle into account". He says Uniper is "working with a number of partners around standards and mechanisms for certification of the different types of production and how those could be transparently traded … that level of competition between the various technologies and commodities can come together if a properly certificated energy market is developed."
Can a patchwork of hydrogen production become a single market? Lockett compares it with natural gas a decade ago, when it traded as a series of localised markets with localised hubs. Now, with the ability to transport large volumes of LNG, there is a price link between the market areas, and " I could see something similar developing in hydrogen or carriers like ammonia … local traded hubs and a connection via a global traded commodity as well."
At the moment, he says, "Pure green hydrogen is many times more expensive and a standalone consumer – even if a Uniper were to provide green hydrogen and guarantee it for the next five years – wouldn't use it as a product. In my view it has to be developed as part of an overall government-backed supply and demand cluster, and expanded. "
 Further reading
Synchronous condensors: ready to roll out?
GE and Uniper join forces to assess gas to hydrogen conversion for power plant fleet
Secure and Promote 'market making obligation' suspended from 18 November