Janet Wood looks at a grid stability option and asks whether it might prompt an addition to the power sector's expanding suite of investment asset classes
In the past, a gas turbine might have been thought more enticing to investors than a warehouse of machinery providing esoteric services like 'fast reserve' to the electricity grid. But that assumption has been turned on its head in recent years, as first gas engines, then battery storage and now, perhaps, demand side response have proved to be popular investment asset 'classes', and money has piled in.
But the electricity industry is undergoing a revolution. So the question arises: what else is out there? What other industry niches are there for those with funds looking for an investment?
Booms are hard to predict, but the characteristics of a new class are becoming clear: an industry need; a technology that is familiar, but with potential for cost reduction via 'learning by doing' and mass rollout; and a buyer for the service.
Hydrogen electrolysers might be an example. But Heikki Vepsäläinen, division president, large motors and generators at ABB, hopes investors will be ready to take a look at synchronous condensers (SCs).
ABB will engineer and install two of these synchronous condensers at the Lister Drive Greener Grid Park in Liverpool, which will be constructed this year in a project with Statkraft, which was awarded four stability contracts by National Grid ESO in January 2020.
So, what is the need being fulfilled? The technology provides grid stability in two ways, Vepsäläinen says. One is inertia. The condenser is a large piece of rotating machinery which helps the grid 'ride through' short term voltage and frequency changes in the same way as does the generator when it spins in a large fossil plant.
The other is a more esoteric concept known as reactive power. This arises because in alternating current there is an interaction between electric and magnetic fields and different types of equipment interact in different ways – known as absorbing or generating 'reactive power'. Whether reactive power is absorbed or generates affects the voltage, and it is a local effect, so the System Operator has to call on users to absorb or generate reactive power in a specific area to balance it up and maintain the voltage.
The bad news is that many of the reactive power providers we relied on were large fossil generators who have shut down. The good news is that it can be provided just as well by several small assets in a location as by one large one, and both NGESO and local distribution network operators have successfully recruited small scale providers in several areas where reactive power was needed. Local markets for the service are developing.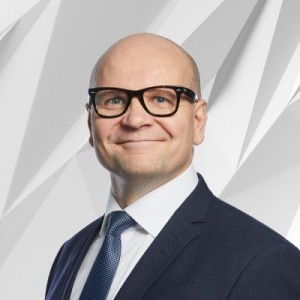 But ABB's Vepsäläinen (left) says that may not be enough; he thinks system operators should look back at how distributed systems were managed in the past, before large centralised assets became major sources of reactive power, and start installing synchronous condensers.
He says grid users, as well as major generators, are changing and says there may not be enough reactive power available in the locations and at the times it is needed.
Got a new motor?
Perhaps surprisingly, Vepsäläinen says a key issue is motors.
Most people would not give them a thought, but in fact between large and small industrial motors, and those used in other applications, they are often collectively responsible for a third of electricity demand.
Conveniently,  large industrial sites housing big motors had arrangements that made sure  reactive power balanced and could help grid manage the issue.
But Vepsäläinen says that  motors are either disappearing – especially in the largest industrial incarnations, as we swap manufacturing for knowledge industries – or they are being relocated, as industries expand or decline. That will change – electrification is likely to involve more motors along with more of everything else but the change will require the SO to re-examine its reactive power portfolio – which as we have seen, is location-specific.
Synchronous condensers, Vepsäläinen argues, can be sited at key points that benefit the system as a whole.
Is this a new asset class? SC has competition to provide inertia and reactive power services.The other top contenders are batteries or power electronics, either of which kick in within milliseconds to react to the grid needs. But Vepsäläinen says that response is not fast enough. In contrast, he says an SC 'leads' the grid, providing extra stability and maintaining reactive power levels – meaning the need for  'response' such that from batteries or power electronics does not arise.
"There is market will and wish for stability," he says – so SCs may fit the profile of a new asset class that meets a market need and can identify potential revenue streams from NGESO or DSOs.
What about the technology? Vepsäläinen says that in its early days the grid was stabilised with SCs, and that their first boom was in the 1940s and 1950s. There is certainly a revival of interest.
Uniper plans to install four at two of its existing sites (see our interview with Mike Lockett) and Ireland's ESB has announced that Siemens will supply it with one to be built at Moneypoint, where the  coal-fired power station will give way to connections for a 1.4GW floating wind array in the Atlantic Ocean.
Those projects raise a question: why install a new condenser? Would it be cheaper to repurpose assets, or at least connections, on existing sites?
Vepsäläinen says, "To safeguard reliability sometimes it is better to invest in new assets." He points out that in Europe half of the power plants that might be partially repurposed date back to the mainly 1960s-80s. "Is it feasible, including bearing the ongoing cost of older infrastructure cost?" he asks, "Or is it safer to use it [the site] for something else and build another [SC] that will last for 50 years?"
To safeguard reliability sometimes it is better to invest in new assets
And he says building new offers more flexibility. Instead of using existing equipment, typically serving a power plant providing several hundred megawatts, you can build several SCs of 50MW or 100MW, adding redundancy and building them close to new distributed power plants "to stabilise where power generation is happening."
A condenser itself has a footprint around 10x10m but it might need a substation and switchgear so that footprint could "easily become 100x100m" he admitted, but added "The beauty is you need to have the substations anyhow".
Does this meet our 'new asset class' test? The market appears to be growing.
As well as ESB's Moneypoint site and  Uniper's four compensators, two each at Grain and Killingholme, Welsh Power and Quinbrook Infrastructure Partners won a contract to provide inertia to NGESO last year and plan to install the technology at Rassau.
Meanwhile Scottish Power Energy Networks has worked together with partners Hitachi ABB Power Grids, National Grid ESO, The University of Strathclyde and The Technical University of Denmarkto combine two synchronous condensers and with complementary technology – static condensers – and completed installation at the Neilson substation last year in its so-called 'Project Phoenix'. It is considering whether to prepare similar hybrid compensators to pick up the need for inertia and reactive power elsewhere, such as in its southeastern region when the nuclear plant at Torness reaches the end of its life.
From his pan-European viewpoint , Heikki Vepsäläinen says that if a transmission company has lots of assets to be protected it might build a synchronous compensator on their own balance sheet to maintain power supply standards and avoid penalties, but "If they want to have a low balance sheet they might hand it to someone else."
The GB market is slightly different: SPT notes that synchronous condenser projects are contestable. The opportunity is there for third parties, if they want to take it up.
Further reading
INTERVIEW: Mike Lockett, Uniper, talks about going carbon neutral by 2035
Summer outlook: demand recovers but gas-fired generation set to continue decline, as NGESO plans London reactive power tender
Power generators asked 'how low can you go?' as NGESO seeks services to manage depressed demand