Carlton Power subsidiary Trafford Green Hydrogen Ltd has applied for planning permission for a 200MW so-called 'low-carbon hydrogen fuel hub' at the Trafford Low Carbon Energy Park.
Hydrogen will be produced using electrolysis, with power from a 20MW solar farm on the site – a planning application is expected in the next few months – and from offsite renewable energy projects supplied via 'sleeve' power purchase agreements.
The hydrogen will mainly be used for transport and the application includes onsite refuelling facilities for hydrogen-fuelled vehicles, such as heavy goods vehicles. That means it will benefit from the Renewable Transport Fuel Obligation (RTFO). The RTFO currently requires the renewable energy used for hydrogen production to be generated via private wire – generally adjacent to the production site or on-site – as that will be the case with the planned solar farm. But RTFO rules are set to change at the end of 2021 and will allow for hydrogen produced from renewables projects in other locations that are 'additional' or that would otherwise be constrained off.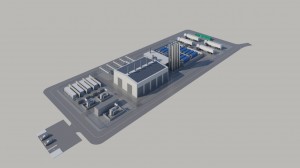 The Hub will also include a facility that will allow hydrogen tankers to be filled to transport it elsewhere, which the company said could open the hydrogen option to other users.
The next stage of development is procurement of the electrolysers. The company hopes to be granted planning permission for the Hub in mid October and have an 'investable project' at the end of this year or the beginning of 2022. If so, it should enter operation in 2023. The Trafford Green Hydrogen project is Carlton Power's first hydrogen scheme and it has plans to develop as many as 10 other similar projects in the UK over the next 2-5 years.
The Low Carbon Energy Park also includes the 250MWh Carlton Highview Power project and one of the largest battery storage schemes in the UK. The Hydrogen Hub follows a Memorandum of Understanding between Carlton Power and local stakeholders – Manchester Metropolitan University, Greater Manchester Combined Authority, Trafford Council, Cadent Gas and Electricity North West.
The planning application will be determined by Trafford Council, the local planning authority. Further information can be found at www.traffordgreenhydrogen.co.uk.